little pixel circle | 1-bit collection
A downloadable asset pack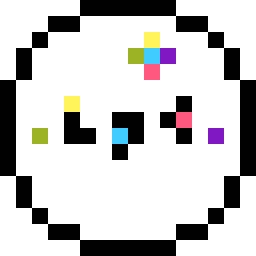 these asset packs consist of pixel art sprites and tiles, each 8x8px in size, and all in 1-bit color. they're all thematically-cohesive packs, providing enough assets to make a tiny game, or build into a bigger project. they're perfectly-sized for small-scale game engines like bitsy or pico-8, with some of the sprites and tiles having simple, 2-frame animations in the bitsy style.
each zip file contains the assets in spritesheet format, to-scale (8x8px), as well as a 10x scale version, and a small visual showcase (gif) of the assets.
the asset packs currently included in the download are:
+ forest graveyard (35 separate sprites, 10 w/ 2-frame animations)
+ robot factory (28 separate sprites, 14 w/ 2-frame animations) [updated 4/11]
+ dino valley (30 separate sprites, 16 w/ 2-frame animations) [updated 4/13]

with more to come, so check back!
you can use these assets for any kind of non-commercial projects, as long as proper attribution is given. these assets are not permitted for use in NFTs or anything related to crypto, blockchain tech, etc.
please provide credit to little pixel circle. we'd love to know about what you've used our assets to make!
and visit us at our website for more pixel art assets and related content~

license - CC-BY-NC-SA 4.0

Download
Click download now to get access to the following files:
lpc_1bit_collection_0413.zip
696 kB